The piracy war escalates
Farewell to Seriespepito mark a week of celebrations for the cultural industry
The sector encrypts your losses piracy 2013 in 1.326 million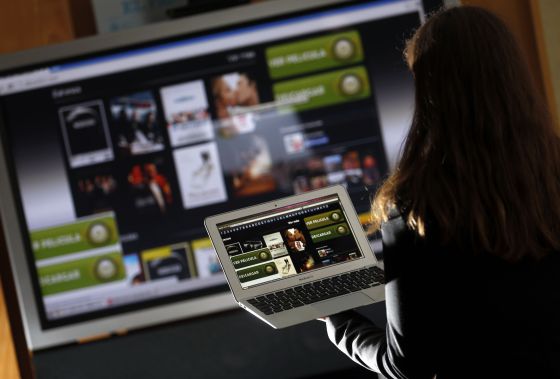 White and black, and crossbones. Just no gray in this dispute. On one side, the cultural industry, celebrating this week two goals in favor of copyright: the judicial closure of Seriespepito and Peliculaspepito pages, thousands of users took the opportunity to get to see free copyrighted works, and the statement of another web, Series.ly, to withdraw "all the links that violate the law". Across, are the owners of these pages, and lawyers who defend. The arguments of both worlds are at the antipodes, each appointment decisions that support their performance and, even if some advocate dialogue, his voice barely audible under the whistle of bullets.
Last projectiles struck the first line of pirate army. "It was a very satisfying week", Carlota tells Navarrete, director of the Coalition of Creators. Because the two owners Seriespepito and Peliculaspepito were arrested on Tuesday, accused of a crime against intellectual property, and obtaining benefits 1.085.000 euros, according to the National Police. This newspaper tried to contact by e electrónicocon one, unanswered.
His defense counsel, Carlos Sánchez Almeida, blemish the number of "manipulated", since it would add all revenue generated by their customers. Anyway, numbers handled together industry are much higher: Creators Coalition estimates that piracy caused losses to the cultural sector 1.326 billion 2013.
Series.ly, a social network with five million users where they can evaluate, comment and link contents, experts was the next treasure which would buccaneers who visited Seriespepito -1.5 million unique users in October-. While, certainly, had already sunk the flagship, Seriesyonkis, in March voluntarily withdrew its links. After two victims, came the release of the only survivor.
"So far we have given freedom to our users to share links from any internet source, removing those that it had actual knowledge of infringing the law. With the change in legislation, we can only maintain links to pages which we can assure the 100% they have rights to content, and that is what we will do ", reiterates Oriol Solé, one of the founders of Series.ly. Refers, specifically, the entry into force in January of the new Copyright Act, that toughens penalties and control links pages. Solé rejects shelling benefits or wages.
While, according Almeida, "Since January the activity of these websites will be harder". And if you changed the Penal Code, with penalties of up to six years in jail "the best advice would be close". Here is another of the dozens of boxes of Pandora. Several scholars argue that hitherto entrepreneurs links pages have moved into a "loophole". A lawyer for the other side, they often turn to film production, I can not disagree more: "For more than 10 years in Spain there suitable policy to pursue these actions. There is something alegal now become illegal. Since it was before and will remain so ".
One of the great battles that have been fought against judges is whether or not a link is a public communication. Some courts have considered themselves, others not. Current Intellectual Property Law, waiting for the new, well defined: "Any act by which a number of persons can have access to the work without prior distribution of copies to each". And the Law 2002 Services Information Society and Electronic Commerce disclaims responsibility to always linked pages as "do not have actual knowledge that the activity or information to which they refer is unlawful or harms property or rights of a party liable for compensation ".
Hence managers, Kim Dotcom as it did when they closed their goose that lays the golden eggs, Megaupload, hide behind not know what content each user connects. "An owner of a website only has the obligation to remove those links to content that claimed by the rightful owners, and so we have done in more than 130 Sometimes, removing most of 12.000 links ", defends Solé. Just prior knowledge and the profit were the keys that the industry has tried to demonstrate in their repeated complaints.
Defendants, in return, move the focus of debate. Sponsored seekers and telephone operators -Navarrete acknowledges that failure to cooperate "at all" - and counterattack. Series.ly argues that has provided millions of visits to legal pages and cites an internal report that the 60% of the 50 most watched content on your website is not available in Spain on any page authorized.
Precios altos en las salas y las diferencias entre las fechas de estreno en EE UU y España son algunas de las explicaciones de la piratería, según algunos dueños de estas páginas. Incluso hay creadores que descartan que los piratas sean el enemigo público número uno. Entre los que cantan fuera del coro está el guionista Sergio Barrejón: "Pongamos un ejemplo hipotético. Fulanito es un chaval de Madrid que va al cine todos los fines de semana. Fulanito compra entre 15 and 25 DVD al año para él, y regala otros tantos en cumpleaños y Navidad. Podríamos decir que Fulanito es un buen cliente, ¿verdad? Si además de comprar todo eso, Fulanito se descarga una peli cada fin de semana… ¿De pronto se convierte en un pirata, en alguien que perjudica a la cultura? Yo creo que no".
El discurso del guionista pone en el punto de mira a las operadoras telefónicas, considera "igual de absurdo pretender que la gente pague por todo y pretender conseguirlo todo gratis", rechaza la idea de una pelea Creadores vs Internautas y cuenta como hubiese querido otro epílogo para el caso de Dotcom: "Encuentro intolerable que haya un gordo en Nueva Zelanda forrándose a base de traficar con contenido que ha costado un dineral hace. Pero no creo que la solución sea enviar a Jack Bauer a secuestrarlo. ¿No habría sido mejor negociar con él? El tipo era un ladrón, pero había logrado atraer a mucho público. ¿Acaso no es ésa la parte más complicada y costosa de nuestro trabajo?".
Desde luego, poco tienen en común sus palabras con las de Navarrete: "Por supuesto que la industria ha de hacer autocrítica, pero es casi imposible que haya modelos de negocios mientras se mantenga el gratis total. Las tarifas son otro debate distinto, que no tiene que ver con tu forma de acceder a algo: no te llevas de la tienda una colonia porque no estás de acuerdo con su precio".
http://cultura.elpais.com/cultura/2014/12/06/actualidad/1417898811_419327.html