Latin America: where it can not be full time child
A teacher knows better than anyone how hard it is to keep the attention of students in class, especially if they are sleep deprived. Facing a sea of ​​yawning, drooping eyelids, little energy and, especially, low yield.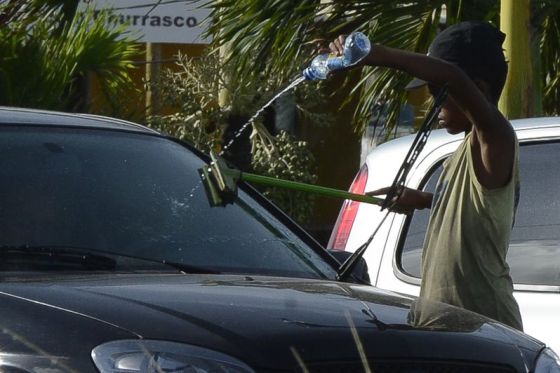 Now imagine those same students, after a day's work. And hears: thousands of young American children may not be full time because they are forced to attend school and work at the same time.
Conclusion: young people who study and work lose three to six months of learning each year, according to an analysis published by the World Bank.
They analyzed the performance of 96.000 students, of an average of 14 age, municipal network of Sao Paulo, Brazil. Brazilian law prohibits the employment of children under 16 age, except when the teen has completed 14 years and occupies a position of apprentice-ie, is hired by a company that offers technical training, respects their school schedules and guarantees the same rights as other workers- . The contract lasts for one to two years.
The study did not focus on apprentices, but young peddlers, domestic workers, car washers and other informal urban low-skill occupations.
Exhausted after a long day's work, the boys face the following reality:
Have 30% more likely to skip school (compared to those not working);
Its a 10% more likely to do homework at school (top of class time);
Face a 5% more likely to turn in homework late.
Among girls, percentages are 14%, 10% and 9%, respectively.
The materials also suffer. The notes from these guys in mathematics and languages ​​are up to 7% lower than the other.
"The difference in ratings between those who work and those who study seems small, but it is relevant", explains André Portela, one of the study authors and professor at the Fundação Getúlio Vargas. Remember that Brazil was 58 place in mathematics at Pisa international test 2012, held in 65 countries.
"And the performance of these adolescents tends to be worse the rest of his academic life. The study shows that even when they stop working, their scores do not improve ", adds Portela.
And this does not include the analysis of dropout or repeat the year, phenomena that remain high in Brazil siende.
The good news is that child labor in the country fell to the lowest levels in history during the past year: worked in that period 15% children aged less 5-15 years than in previous periods. However, There still 3,1 million employees in this age group.
For experts, programs like Bolsa Familia, which pays a benefit only to parents if their children go to school are important to increase household income, get those youth labor market and encourage school attendance.
"Even so, requires policies to facilitate and enhance the learning of these children", says Portela, who has been studying the issue the last two decades.
New Laws
Besides Brazil, other country in Latin America has been able to gradually reduce the level of child labor is Mexico (where 870.000 children continue to work under).
Opportunities, the Mexican version of the Bolsa Familia reduced 8% the number of children between 12-15 years working. Data comes from the report Child Labor in Mexico (2012), who compiled the World Bank, UNICEF and the International Labour Organization.
The country's experience shows that it is essential to supplement the program with specific measures to combat child labor. For example, to reform its labor laws in November 2012, Mexico pledged to develop more initiatives in this regard.
En Uruguay, where 90.000 children work, especially in the field, parents do not perceive such work as harmful. An analysis by the Parliament states that: "although laws exist, the company makes no effort to implement them because the work is still part of the culture of integration in the world of productive adults."
For this reason, institutions like the World Bank are working to create guides to help make the issue more visible in society. It is the first step to ensure the right of youngsters to play, study and be children full time.
http://internacional.elpais.com/internacional/2014/10/20/actualidad/1413813519_972620.html