NYC : Six charged in the case of cybercrime StubHub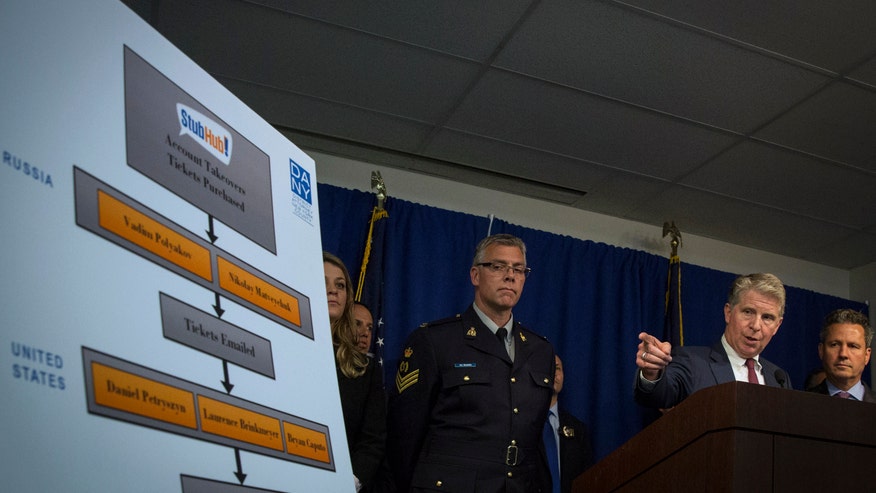 Seis personas han sido acusados ​​en relación con el cybercrime anillo que presuntamente estafó a StubHub de $ 1 million.
Charges, which were announced by the Manhattan District Attorney Cyrus Vance Wednesday, include money laundering, theft, criminal possession of stolen property and identity theft.
The cybercrime ring uses a network of accomplices that span the U.S., United Kingdom, Canada and Russia to transfer funds, according to arelease emitido por la oficina de Vance. Above 1.600 StubHub users and credit card holders were victims of the regime, said.
"The arrests and indictments today a global network of hackers are connected, Identity thieves and money launderers victimized countless people in New York and elsewhere", Vance said in the statement.
StubHub, a subsidiary of eBay, found that more than 1.000 accounts were compromised by fraud a "Cuenta-Take-Over" March 2013. Información de la tarjeta preexistente asociado con las cuentas se utilizó para la compra de entradas y sin el permiso de los titulares de tarjetas. Cuando StubHub informó el fraude y reforzó la seguridad, offenders canceled the new security measures that use the new credit card information stolen from victims additional, according to Vance's office.
The prosecutor's office in Manhattan, City of London Police, Royal Canadian Mounted Police, Secret Service of the United States and the NYPD all participated in the investigation.
"This is an important research, targeted at cybercriminals believed to have defrauded of StubHub $ 1 million, by hacking their accounts' customers' U.S. fraudulently buying and selling tickets, and then wash their criminal proceeds through bank accounts in the UK legitimate, ", said the City of London Police Commissioner Adrian Leppard in the news.
SOURCE: FOXNEWS.COM